Your Instructor: Corey Barker
Corey is an as an award-winning designer and Photoshop instructor has been using Photoshop since version 2.0. He attended the Ringling College of Art & Design where he earned a BFA in Illustration. Corey is best known as one of the Photoshop guys on the popular podcast Photoshop TV and a regular contributor to Photoshop User magazine where he writes the popular Down & Dirty Tricks column. He was also the author of the best-selling books The Down & Dirty Tricks for Designers Vol 1&2 and the more recent How to Create Badass Effects in Photoshop. Corey also teaches at live events such as Photoshop World and Adobe MAX. Corey was recently inducted into the Photoshop Hall of Fame for his contributions to the education of Photoshop.
Books on Photoshop:
How to Create BADA$$ Effects in Photoshop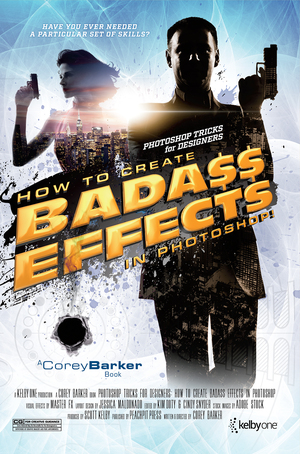 Perhaps you are working on a new project and need a little inspiration , or even a quick reference to show you how to do that one cool effect that will be the finishing touch on your latest creation. Whatever you need, this book can help you in so many ways. One of the toughest things about being a designer is getting a good idea. The next challenge is realizing that idea. This book will not only be a source of ideas , but will also show you how to create them step by step. You can even combine multiple effects to create other cool results–the book's cover was designed by combining at least half a dozen techniques found within.
Corey wrote this book for working designers, or anyone who just wants to add some "cool factor" to their projects. Each tutorial is a stand-alone technique or mini-project, so you do not have to follow the book in sequence. Just find what you like and have at it. And, as an added bonus, you can download all of t he images used in the book to follow along with.
It's everything you loved about the Down & Dirty books, now in a small handbook size you can use as a quick reference to a variety of effects.
Available at Amazon.
Down & Dirty Tricks for Designers Vol. 2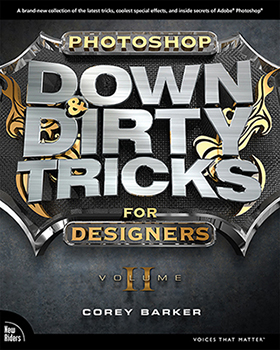 Corey Barker, one of the Photoshop Guys at Kelbyone and co-host of the popular webcast Photoshop User TV, brings you the next installment of his best-selling book, Photoshop Down & Dirty Tricks for Designers. This volume boasts an even more insane collection of all new tutorials with extended projects, and even an expanded 3D chapter utilizing the latest 3D tools in Photoshop to create the most mind-blowing effects yet! Not to mention other favorite chapters, like Hollywood effects, design effects, and even a new chapter with exclusive images from notable photographers.
Like the last volume, there is material within these pages that not only appeals to designers of all sorts, but photographers, Photoshop enthusiasts, and even art students who want to get that extra edge. So, if you are prepared to take the next great leap in your Photoshop design skills, especially if you want to really see what you can do with 3D, then your search has ended.
Available at Amazon.
Down & Dirty Tricks for Designers Vol. 1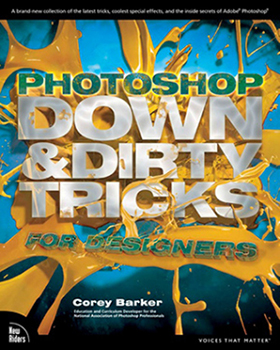 Ever wondered how that movie poster was created, or how they made that cool ad in the magazine, or maybe even how to take a seemingly mundane photo and give it the Hollywood treatment? Or maybe you just want to know how to do really awesome stuff in Photoshop! Well if so,then this book is for you.
Whether you are a designer, artist, or even a photographer there is something here anyone can use – no matter what your skill level. As you move through these projects you will start to see the potential of some of Photoshop's most powerful features and how, with a little experimentation, you can open up a whole new world of dazzling effects.
You will explore how to:
Create a custom brush effects from scratch

Look at type as more of a design element

Create Hollywood style effects that actually look like Hollywood style effects

Take seemingly mundane photos and turn them into something mind-blowing

Design eye-popping commercial effects that clients will drool over

Learn how to get creative with 3D in Photoshop CS5 Extended

Build popular advertising effects you've seen in movies, TV, and the web

Master dazzling photo effects for designers and photographers alike
Plus so much more throughout the book that will have you bursting with new ideas.
Available at Amazon.